How to Get a Hummingbird Out of a Garage: 7 Simple Steps!
To get a hummingbird out of a garage, follow these simple steps: turn off lights, close the garage door, create a path of light, and use a feeder or bright-colored object.
Hummingbirds may accidentally enter a garage while searching for food or shelter. They can become trapped inside and unable to find their way back out because they are attracted to bright light and tend to fly upwards.
It is essential to help the trapped hummingbird find its way out to prevent it from becoming exhausted and possibly dying.
Turn off all the lights inside the garage
Close the garage door to eliminate distractions and light sources
Create a path of light by opening a small window or door, or use a flashlight
Use a hummingbird feeder or brightly colored object to guide the bird towards the exit
It is important to act quickly when trying to help a trapped hummingbird. Hummingbirds have a high metabolism and can become exhausted if they are unable to find food or escape a confined space.
The key is to reduce distractions and create a clear path for the bird to escape. Once the hummingbird finds its way out, it will likely immediately search for food and water, so consider putting a feeder in your yard to provide support for the little visitor.
7 Steps to Safely Remove a Hummingbird from a Garage
| | | |
| --- | --- | --- |
| Step Number | Action | Additional Notes |
| 1 | Turn off any lights in the garage | Darkness may encourage the hummingbird to exit |
| 2 | Open garage doors and windows | Provide multiple exit points |
| 3 | Set up a hummingbird feeder outside the garage | Attract the hummingbird with food |
| 4 | Turn on a single light or open a skylight outside | Direct the hummingbird's attention to the exit |
| 5 | Allow the hummingbird to discover the exit on its own | Be patient and avoid scaring the bird |
| 6 | Gently guide the hummingbird toward the exit using a broom | If it doesn't find the exit, use a broom to help |
| 7 | Close garage doors and windows promptly after the bird exits | Prevent the bird from reentering |
7 Steps to Safely Remove a Hummingbird from a Garage
Key Takeaway
Act quickly to ensure the hummingbird's safety and minimal stress
Remain calm and patient while attempting to guide the bird towards the exit
Utilize strategic methods to coax the hummingbird towards the exit
Understand the importance of preventing future incidents through preventive measures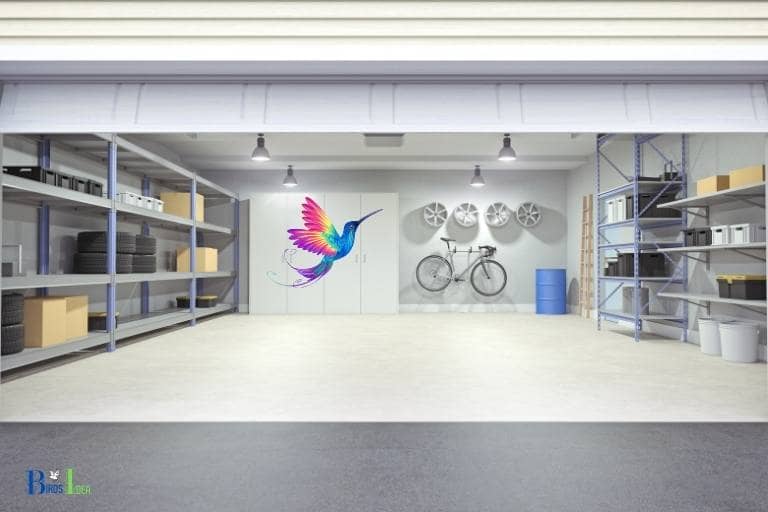 Five Facts About:  Hummingbirds and Their Behavior
Hummingbirds can easily become disoriented and trapped in closed spaces such as garages, potentially leading to exhaustion and death (source: Bird Watcher's Digest)
One of the most effective methods to help a trapped hummingbird is turning off all lights and opening the garage door; the bird will instinctively fly towards the daylight (source: Hummingbird-guide.com)
Another method is to use a soft broom or mop to gently guide the bird downward and toward the exit, being careful not to touch or harm the bird (source: Bird Watcher's Digest)
Providing the hummingbird with a sugar-water mixture (4 parts water to 1 part sugar) can help revive an exhausted bird, allowing it to regain enough strength to fly outside on its own (source: The Spruce)
To prevent future incidents, it is crucial to keep garage doors closed when not in use, and also consider placing decals or stickers on windows to help birds recognize the glass (source: Bird Watching HQ)
Understanding Hummingbird Behavior
Hummingbirds are fascinating creatures that are known for their unique characteristics, such as their ability to fly in any direction and their incredibly high speed.
Unfortunately, these beautiful birds sometimes find themselves trapped in garages, unable to escape. In this section, we will discuss the behavior of hummingbirds and why they get trapped in garages.
Understanding Hummingbirds
Hummingbirds are extremely fast flyers, which makes them vulnerable to collisions. They can fly at speeds of up to 60 miles per hour and sometimes mistake garage windows for an open space.
Hummingbirds have a high metabolism, which means they have to eat frequently. They may enter garages in search of food, such as nectar from flowers or sugar water.
These birds have a strong homing instinct and can easily become disoriented once inside an unfamiliar space. They may fly towards the light and become caught in the garage.
Why Hummingbirds Get Trapped In Garages
Garages are not a natural environment for hummingbirds, and they may become confused and disoriented.
Windows and mirrors in garages can reflect light and images, making birds think it's a safe passage. Hummingbirds may try to fly through the window or mirror and end up getting trapped inside.
Sometimes, hummingbirds fly into garages through open doors, and due to their excellent flying abilities, they could easily miss the open door and fail to find their way out.
Hummingbird Behavior While Stuck In Garages
Hummingbirds have a natural rest pattern that they enter when they become inactive. This means they become still and quiet, which makes them harder to locate when trapped inside a garage.
They may become exhausted or hungry after some time, which can affect their behavior. They will become more sluggish, and their movements will slow down.
Hummingbirds can survive for several hours without food, so it's essential to provide them with sugar water or nectar to keep them alive.
Understanding hummingbird behavior is crucial when dealing with a trapped bird. By knowing why hummingbirds get trapped and how they behave in this situation, homeowners can take steps to prevent it from happening and help the bird get free.
Preparing To Rescue A Hummingbird
Safety Precautions
Hummingbirds are delicate creatures, and you should take extra care when handling them.
Here are some safety precautions to keep in mind:
Wear gloves to protect your hands from their beaks and talons.
Avoid making sudden movements or loud noises, as this can startle the bird and cause it harm.
Make sure there are no pets or children in the area, as they may accidentally harm the bird.
Keep the bird away from any chemicals or hazardous materials.
Remember that it is illegal to keep a wild hummingbird as a pet.
The Tools You Will Need
Before you attempt to rescue a hummingbird, make sure you have the necessary tools:
A small cardboard box to transport the bird safely.
Soft cloth or towel to handle the bird.
Eye dropper or syringe to feed the bird (optional).
Scissors to cut away any obstructions (optional).
Preparing Yourself Mentally
It's important to prepare yourself mentally before rescuing a hummingbird.
Here are some things to keep in mind:
Hummingbirds are easily stressed, so try to keep them calm throughout the rescue process.
Be prepared for the possibility that the bird may be injured.
Remember that rescuing a hummingbird can be a rewarding experience, but it requires gentle handling and patience.
Remember to always approach the hummingbird with caution. Now that you have the necessary tools and knowledge to rescue a hummingbird safely, you're ready to take the next step in helping these amazing creatures thrive.
Rescuing The Hummingbird
Approaching The Trap Area
The first step in rescuing a trapped hummingbird is to approach the trap area carefully. Getting too close can scare the bird and make it harder to capture.
Here are some tips on how to approach the area safely:
Move slowly and calmly towards the trap
Avoid making sudden movements or loud noises
Wear calm and neutral colored clothing
Approach the trap from the side to prevent scaring the bird
Remove any pets or small children from the area to prevent disturbance
Capturing And Handling The Hummingbird
Once you are near the trap, it is time to capture and handle the hummingbird. Remember to be gentle and careful as hummingbirds are very delicate creatures.
Here's how to capture and handle a hummingbird:
Use a thin net or towel to gently cover the bird
Pick up the bird gently and hold it securely but carefully
Be sure to support the hummingbird's body with the palm of your hand
Do not squeeze or apply too much pressure on the bird's body
Keep the bird in a quiet and warm place while handling it
Releasing The Hummingbird Safely
After capturing and handling the hummingbird, it is time to release it safely back into nature.
Here are some tips on how to release the hummingbird safely:
Take the bird to an open area away from any traps or hazards
Hold the bird in your hand and wait for it to fly away on its own
Do not throw or toss the bird into the air
Remember, rescuing and releasing a hummingbird back into the wild is a great experience, but it requires care and attention. Always handle the bird gently and release it in a safe and appropriate place.
Post-Rescue Care For Hummingbirds
Getting a hummingbird out of a garage can be a daunting and stressful experience, but providing post-rescue care for these little birds is just as crucial as rescuing them.
Here's what you need to know about monitoring the hummingbird's condition, re-hydrating and feeding, and releasing the hummingbird back into the wild.
Monitoring The Hummingbird'S Condition
After rescuing a hummingbird from your garage, the bird is likely to be disoriented, weak, and stressed. It's important to keep a close eye on their condition for the first few days.
Here are the key points to monitor their condition:
Place the hummingbird in a closed container near a light source in a quiet and warm room
Check for any injuries and contact wildlife rehabilitation if needed
Observe their breathing and remove any food or liquid if they are struggling to swallow
Re-Hydrating And Feeding
Re-hydrating and feeding the hummingbird is essential for their survival and recovery. It's important to feed them a specific solution that will provide the necessary nutrients for their speedy recovery.
Here's what you need to know:
Prepare a nectar solution using 1 part white granulated sugar to 4 parts water and stir until sugar dissolves
Place a few drops on the tip of their beak using either a dropper or a syringe without a needle
Repeat the feeding every 15 minutes to half an hour, then gradually increase the interval once they start to regain strength
Releasing The Hummingbird
Once the hummingbird is strong enough, it's time to release them back into the wild. Ensure that the bird is capable of independent flight and the outside temperature is safe for them.
Here are the key points to follow:
Take the hummingbird out of the container and hold it gently in your hand
Ensure that there are no predators around and select an area that has plenty of flowers and trees
Open your hand and let the hummingbird fly away freely
Providing post-rescue care for hummingbirds is just as important as rescuing them. By following these steps, you can ensure that the hummingbird has the best chance of survival and recovery.
FAQ On How To Get A Hummingbird Out Of A Garage
How Do Hummingbirds Get Into Garages?
Hummingbirds might mistakenly fly into open garage doors or windows, attracted by light or flowers.
Why Is It Important To Safely Remove A Trapped Hummingbird?
Hummingbirds are tiny and delicate creatures which could become weak, dehydrated, or suffer injuries if trapped for too long.
How Can I Lure A Trapped Hummingbird To Safety?
Place feeders with sugar-water solution outside the garage or use a cloth to wave it towards an open window.
What Should I Do If The Hummingbird Is Injured And Unable To Fly?
Gently place the hummingbird in a small, warm, and well-ventilated container and contact a wildlife rehab center immediately.
How Can I Prevent Future Hummingbird Incidents?
Make sure to keep garage doors and windows closed, or install protective screens. Also, avoid using pesticides and provide bird feeders away from the garage.
Conclusion
After following these simple tips on how to get a hummingbird out of a garage, you can now confidently rescue the little bird and help it fly back into its natural habitat. Remember to stay patient, calm, and avoid any sudden movements that might startle the hummingbird.
By creating an inviting environment and providing a clear and safe exit, you can help these tiny creatures find their way back to the great outdoors. This process might take some time, but seeing the bird finally fly off will be a rewarding and reassuring experience.
Always remember to be mindful of your surroundings and respect the safety and well-being of all animals. With these helpful strategies, you can become a true hummingbird whisperer and earn the gratitude and admiration of all the nature lovers around you.