How to Protect Hummingbird Nest from Predators? 6 Solution!
To protect a hummingbird nest from predators, you should monitor the nest's location, provide natural cover, limit human disturbance, and deter potential threats.
Hummingbirds are small and vulnerable creatures, making their nests prime targets for various predators such as squirrels, snakes, and larger birds.
Protecting their nests is essential to ensure the survival of their eggs and offspring. By providing a safe environment and implementing various strategies, you can help keep the hummingbird nests in your area safe from predators.
Monitor the nest's location regularly
Provide natural cover and camouflage
Limit human disturbance and interaction
Use deterrents to discourage predators
Monitoring the nest's location is an essential step in keeping the hummingbirds and their nests safe. Regularly check the area for any signs of potential predators, such as tracks or droppings.
Natural cover and camouflage can be provided by planting dense shrubbery or using natural materials, such as moss and lichen, to help hide the nest from sight.
Minimize human disturbance by keeping a respectful distance from the nest and avoiding any loud noises or sudden movements that may stress the birds or attract predators.
Finally, deterrents can discourage predators from approaching the nest; these can include placing birdhouses for predator species nearby or using reflective materials to scare off predators.
6 Ways Of Protecting Hummingbird Nests: Pros & Cons
| Solution | Description | Pros | Cons |
| --- | --- | --- | --- |
| Bird Netting | Installing a bird-friendly netting around the nest area | Protects from larger birds and squirrels | May restrict hummingbird's flight and access to the nest |
| Cage Guardians | Placing bird-guarding cages over the nesting area | Protects the nest from various predators | Could hinder access to the nest if not sized correctly |
| Decoy Nests | Installing fake nests nearby to distract predators | Diverts predators away from the real nest | May not fool all predators |
| Pruning | Pruning back branches near the nest, making it harder for predators to reach | Reduces predator accessibility | Might accidentally remove the branch the nest is on |
| Scent Control | Keeping food sources away from the nest area to reduce scent that might attract predators | Reduces the likelihood of predators finding the nest | May require regular maintenance |
| Insect Repellent Plants | Planting insect repellent plants around the nesting area | Deters insects that may harm the nest or birds | May not be effective against larger predators |
6 Ways Of Protecting Hummingbird Nests: Pros & Cons
Key Takeaway
Importance of nest protection for hummingbird survival
Potential predators and their impact on hummingbird populations
Various techniques that can be implemented to protect nests
Human-initiated interventions and their effectiveness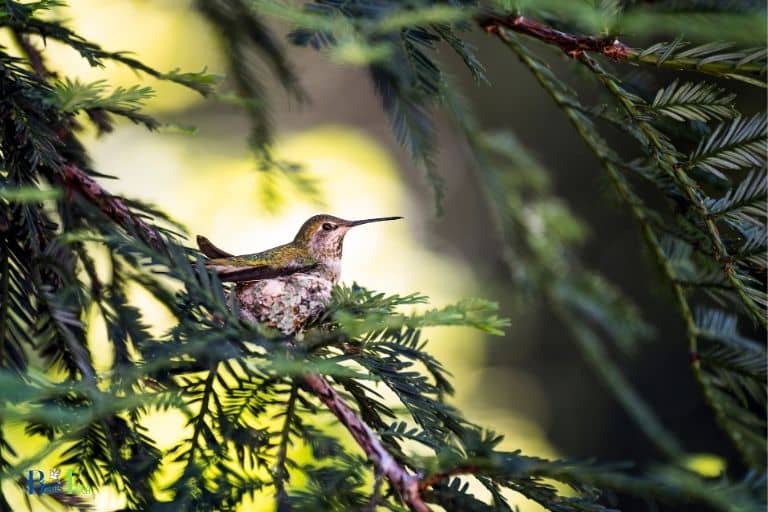 Five Facts About Protecting Hummingbird Nests from Predators
Hummingbird nests are typically small and built by the female with materials such as plant down, lichen, and spider silk, making them difficult to spot and vulnerable to predators (source: National Wildlife Federation).
The most common predators to hummingbird nests are snakes, jays, crows, and squirrels. These predators pose a severe threat to the survival of hummingbird eggs and chicks (source: Ornithology).
One method to protect a hummingbird nest from predators is to install a baffle on the tree trunk or support structure. This prevents snakes and squirrels from climbing up and reaching the nest (source: Bird Watching HQ).
Providing a space with dense foliage and substantial cover can also help protect hummingbird nests. This could include native plants, thick shrubs, or even hanging baskets with dense foliage (source: Garden Gate Magazine).
Educating humans and encouraging them to respect and monitor hummingbird nests from a distance is an essential factor in protecting them. Human interference can cause stress to the birds and alert predators to the nest location (source: Audubon Society).
Understanding The Threats To Hummingbird Nests
Hummingbirds are tiny, beautiful birds that are fascinating to watch. These tiny birds are often found hovering near flowers and feeders. They are a great joy to watch, especially if they have chosen your garden to call home.
If you have discovered a hummingbird nest in your garden, you may be wondering how you can protect it from predators.
Understanding the threats to hummingbird nests is the first step in protecting the bird's home.
Overview Of The Predators That Pose A Threat To Hummingbird Nests
Several predators can pose a threat to hummingbird nests. Some of the most common predators include:
Squirrels
Snakes
Cats
Raccoons
Understanding The Behavior Of Hummingbird Predators
Predators of hummingbirds can sometimes be quite sneaky and resourceful in their attempts to get to the nest and the baby hummingbirds.
Understanding the predator's behavior can help you in creating a plan to stop these creatures from harming the hummingbird nest.
Cats and raccoons are nocturnal, so bird feeders and birds' territories must be kept out of their reach during the night.
Squirrels can be tricky and often target bird feeders, but they can also raid hummingbird nests.
Snakes are excellent climbers and can easily slither up into trees to get to the hummingbird nest.
Discussing The Reasons Predators Are Drawn To Hummingbird Nests
Predators are attracted to hummingbird nests for several reasons:
The promise of a meal attracts predators, and baby hummingbirds are easy targets.
Shiny objects can attract predators, as the iridescent feathers of the hummingbird can be quite attractive to predatory birds and other animals.
Hummingbirds are precious birds that need our help in protecting their homes. Understanding the predators that pose a threat to hummingbird nests and their behavior will help you safeguard the bird's territory.
Being aware of the reasons predators are drawn to hummingbird nests will enable you to create an environment that is safer for the baby hummingbirds and ultimately helps preserve the species.
Selecting The Perfect Nest Location
Exploring The Optimal Location For Hummingbird Nests
When it comes to locating the perfect place for a hummingbird nest, there are a few crucial factors to consider. In order to protect your hummingbird nest from predators, choosing the right spot is essential.
Here are some key points to explore:
Location height: Hummingbirds prefer to nest in areas that are high off the ground, at least 6 feet or above. This makes it harder for predators to reach the nest and minimizes the likelihood of disturbances from people or pets.
Shade: Be sure to choose a location that is somewhat shady, as hummingbirds can become overheated in the sun. However, it should still receive some sunlight for warmth and to support the growth of flowers and plants that hummingbirds feed on.
Protection from the elements: Avoid placing your hummingbird nest in areas that are prone to strong winds or heavy rain. Opt for locations that offer shelter from these kinds of conditions, such as near a branch or under an overhang.
Clarifying The Role Of Vegetation In Hummingbird Nest Protection
Vegetation can play an important role in protecting your hummingbird nest from predators.
Here are some key points to keep in mind:
Camouflage: Strategically placing your hummingbird nest near foliage can help camouflage it and make it harder for predators to spot. Be sure to choose vegetation that is native to your area and that offers enough coverage.
Nectar sources: Hummingbirds rely on flowers for both food and nesting material. Plant nectar-rich flowers in the vicinity of your hummingbird nest to attract these birds and encourage them to build their nests nearby.
Competing predators: Vegetation can also be helpful in keeping away other predators that may pose a threat to hummingbirds. For example, planting hedges or bushes around your yard can discourage cats or other small animals from entering the area.
Highlighting The Importance Of Secure Nesting Materials
Selecting the right nesting materials for your hummingbird nest is just as important as choosing the best location.
Here are some key points to consider:
Natural materials: Hummingbirds often use natural materials like spider silk, moss, and lichen to construct their nests. These materials are not only secure but also provide insulation and keep the eggs warm.
Man-made materials: In addition to natural materials, hummingbirds may also use man-made materials like cotton and string. Be sure to choose these materials carefully to avoid using anything that could be harmful to the birds or that could become tangled around their legs.
Nest maintenance: Once your hummingbird nest is in place, be sure to keep an eye on it and make any needed repairs. Loose materials or poorly constructed nests can make it easier for predators to gain access. Regularly inspecting the nest can help ensure that it remains secure and safe for the birds and their young.
Remember, securing your hummingbird nest from predators is just as important as providing a comfortable and safe place for these beautiful birds to call home.
By carefully selecting the perfect location, utilizing vegetation to protect the nest, and choosing the right nesting materials, you can help ensure that your hummingbirds thrive and flourish.
Creating Barriers To Deter Predators
Utilizing Barriers To Protect Hummingbird Nests
Hummingbirds are some of the most delicate birds in existence, and because of their small size, they are threatened by numerous predators that may consume their eggs or young.
Nonetheless, using barriers is an excellent technique to safeguard hummingbird nests from predators.
These barriers, which encircle the nest for protection, are constructed in a variety of methods and materials to fit various situations.
Providing Examples Of Effective Barrier Construction
Here are some effective barrier construction techniques to safeguard hummingbird nests:
Chicken wire is a flexible and readily formed material that can be made into a mesh dome or tent to cover a nest. It is quite effective in repelling predators like squirrels, snakes, and birds.
Baskets or bags made of woven fibers are ideal for hummingbird nest protection. The baskets must be of a sufficient size to contain the entire nest and strong enough to deter predators. They are most effective when they hang from trees to keep predators at bay.
Plant dense, thorny vines or climbing plants around the nest's vicinity to deter predators from reaching the nest. Birds have difficulty navigating the thorny barriers, making it difficult for them to approach the nest.
Discussing The Potential Benefits And Drawbacks Of Different Types Of Barriers
While barriers are an excellent technique for protecting hummingbird nests, different types suit different predator threats and situations.
Chicken Wire
Benefits:
Flexible and versatile material that is easy to manipulate.
Available in various thicknesses to provide a stronger barrier.
Cheap and readily available.
Drawbacks:
Not suitable for ground protection because predators like snakes can quickly crawl through the wire.
Visually unappealing and not suitable for gardens or landscapes.
Baskets Or Bags Made Of Fibrous Plants
Benefits:
Effective against most bird predators due to the hanging placement.
Aesthetically pleasing and natural-looking.
Can also protect young birds after they leave the nest.
Drawbacks:
Not advisable when predator activity is high since they are not as resilient to attacks as chicken wire.
Not ideal in windy areas as the basket might sway and expose the nest.
Dense, Thorny Plants
Benefits:
Useful for protection against ground predators, including cats and snakes.
Environmentally friendly as they blend well with gardens and landscapes.
Drawbacks:
Difficult to manage and prune.
Needs to be at the right amount to avoid accidentally hurting the bird or the younglings.
Creating barriers is an effective technique to protect hummingbird nests from predators. The best barrier construction to use varies depending on the extent of the potential predators, and the situation.
Nevertheless, chicken wire, baskets or bags made from fibrous plants, and dense, thorny plants are excellent barrier materials.
Proper care should be taken when constructing barriers to prevent accidentally harming the hummingbirds or their younglings.
Alternatives To Barriers: Predator Deterrents
Exploring Alternative Methods For Protecting Hummingbird Nests
Hummingbirds are delicate creatures that require protection from predators. While barriers may be the most common method of protecting nests, there are alternative options to consider.
Here are some methods for protecting hummingbird nests from predators:
Highlighting The Effectiveness Of Decoys And Predator Deterrents
Decoys are one of the most effective ways to deter predators from hummingbird nests. Some decoys can mimic the sounds and movements of hummingbirds, which can trick predators to move away from the area.
Additionally, predator deterrents, such as motion-activated sprinklers or lights, can also be used to scare off predators.
Here are some popular decoys and deterrents to explore:
Windowalert hummingbird decals: These stickers can be placed on windows to prevent birds from accidentally flying into them.
The hummermagnet: This decoy can move like a real hummingbird and can trick predators into thinking that the nest is guarded by a live bird.
Predatorguard: Light and motion-activated owl decoys that are solar-powered. They can scare off many types of predators at night.
Scarecrow motion activated sprinkler: This sprinkler detects motion and sprays water at predators, which can scare them away.
Resources For Successful Predator Deterrent Implementation
Protection of hummingbirds is essential and implementing a successful predator deterrent strategy is crucial.
Here are some resources that can help in implementing a successful predator deterrent plan:
Hummingbird society: This website has information about hummingbirds and provides resources for their protection.
Hummingbird haven: This site has information about creating a hummingbird-friendly environment and techniques for protecting them from predators.
Bird-x: A company that makes various decoys and deterrents that can be useful in protecting hummingbirds.
Protecting hummingbirds from predators is important, and using barriers may not be the only option. Decoys and predator deterrents have proven to be effective, and there are many resources available to help implement a successful deterrent strategy.
FAQ About Protecting Hummingbird Nests from Predators
How To Protect A Hummingbird Nest From Predators?
First, make sure the location is secure. Install predator guards and trim nearby branches or bushes.
What Animals Are A Threat To Hummingbird Nests?
Squirrels, snakes, raccoons, and cats are some common predators. Even ants and wasps can harm hummingbirds and their eggs.
Is It Safe To Relocate A Hummingbird Nest?
No, it is not recommended. Disturbing the nest can cause the mother to abandon it. Only relocate in extreme circumstances.
How Can I Tell If A Hummingbird Nest Is Abandoned?
If you haven't seen the mother hummingbird for several hours, it may be abandoned. Check the nest after a day or two to be sure.
Can I Use Pesticides To Protect Hummingbird Nests?
No, pesticides can harm not only the predators but also the hummingbirds and their young. Use natural methods to deter predators.
Conclusion
Protecting a hummingbird nest from predators requires patience, vigilance, and a few preventive measures. As small as they are, hummingbirds are defenseless against larger predators. But as bird lovers, we can do our part in helping them survive and thrive in the wild.
By choosing the right location for their nest, keeping it well camouflaged, and adding some barriers around it, we can greatly increase their chances of survival. Additionally, removing any potential food sources for predators and keeping pets indoors during nesting season can also make a big difference.
With a little effort and dedication, we can contribute to the preservation of these beautiful and delicate creatures. Remember, every little gesture counts when it comes to protecting hummingbird nests, and we should all strive to do our part in keeping them safe and sound.