When Do Hummingbirds Nest in Michigan? late April
Hummingbirds typically nest in Michigan from late April to early September.
Hummingbirds, specifically the Ruby-throated Hummingbird, are migratory birds that arrive in Michigan during the spring season. They come to the area for breeding and nesting purposes.
The exact timing of their arrival may vary slightly each year depending on factors such as weather conditions and the availability of food sources like nectar-producing flowers and insects.
Arrival time: Late April to early May
Nesting period: May to late August
Departure for migration: Early September
Primary species in Michigan: Ruby-throated Hummingbird
In Michigan, the Ruby-throated Hummingbird is the most commonly encountered species. These tiny birds build their nests on the branches of trees or shrubs, using plant materials like moss, lichen, and spider silk.
During the nesting period, which lasts from May to late August, female hummingbirds lay 2-3 eggs and take care of the hatchlings.
By early September, the hummingbirds start to embark on their southward migration journey to their wintering grounds in Central America.
Nesting Period Of Hummingbirds in Michigan
| Nesting Period | Activity Description |
| --- | --- |
| Late April | Arrival of hummingbirds in Michigan |
| Early May | Searching for potential nesting sites |
| Mid-May | Building of the nests |
| Late May | Laying of eggs |
| Early June | Incubation of eggs |
| Mid-June | Hatching of eggs |
| Late June | Feeding and caring for the hatchlings |
| July | Fledglings learning to fly and feed independently |
| August | Adult and young hummingbirds' preparation for migration |
Nesting Period Of Hummingbirds in Michigan
Key Takeaway
Hummingbirds are known for their unique feeding and nesting habits.
The nesting period of hummingbirds in Michigan specifically depends on multiple factors such as climate and availability of resources.
Female hummingbirds are responsible for constructing the nest and raising the offspring.
Understanding when hummingbirds nest in Michigan can be useful for enthusiasts and conservationists to support the species' habitat.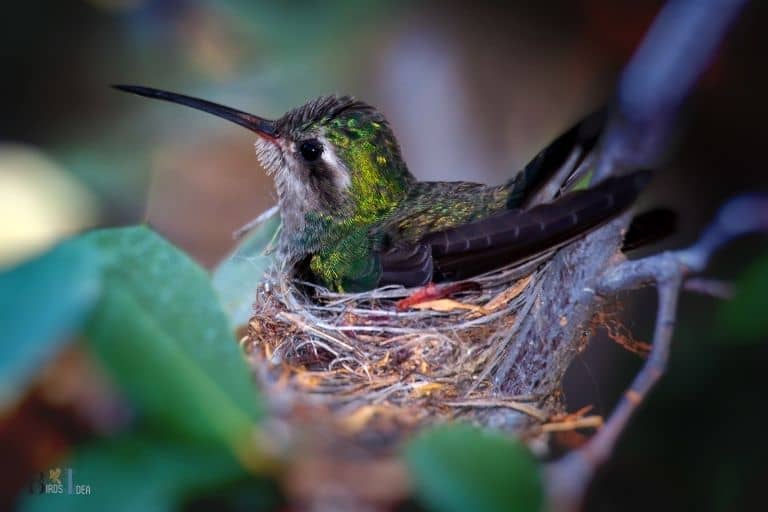 Five Facts About Hummingbirds Nesting in Michigan
Ruby-throated Hummingbirds are the only species of hummingbird known to nest in Michigan. (source: Michigan Department of Natural Resources – michigan.gov)
Nesting season for hummingbirds in Michigan typically starts in late April or early May and lasts until late July or early August. (source: Audubon Society – audubon.org)
Female hummingbirds in Michigan build their tiny nests using various plant materials, such as lichen, moss, and spiderweb silk, which holds everything together. (source: Audubon Society – audubon.org)
A Ruby-throated Hummingbird nest is small and well-camouflaged, only about 2 inches in diameter, making it difficult to spot. It is often built on a horizontal tree branch or in shrubs. (source: National Wildlife Federation – nwf.org)
During the nesting period, female hummingbirds lay two eggs, which are incubated for around 12-14 days. After hatching, the nestlings are cared for by the mother until they fledge in about 18-21 days. (source: Cornell Lab of Ornithology – allaboutbirds.org)
Understanding Hummingbirds Nesting Habits In Michigan
The Different Species Of Hummingbirds Found In Michigan And Their Nesting Behaviours
Michigan is home to several species of hummingbirds, each with their unique nesting habits. The most common species found in michigan is the ruby-throated hummingbird.
Here are some of the unique nesting behaviours of hummingbirds found in michigan:
Ruby-throated hummingbird: Their nests are tiny, about the size of a walnut shell, and are typically constructed using spider webs, plant fibers, and lichen.
Rufous hummingbird: They prefer building their nests in coniferous trees in michigan, which are densely packed compared to leafier trees.
Broad-tailed hummingbird: They tend to build their nests in deciduous trees in michigan as they offer better cover for their young.
The Factors That Influence Hummingbird Nesting Habits In Michigan, Including Climate, Temperature, And Geographical Location
Several factors determine hummingbird nesting habits in michigan.
Here are some of the prominent factors:
Climate: The climate in michigan plays a significant role in hummingbird nesting. Hummingbirds build their nests according to the availability of flowers, so the right temperature must be maintained to attract them.
Temperature: The temperature in michigan is variable throughout the year. During the nesting season, the temperature must be warm enough for the eggs to hatch.
Geographical location: Choosing the perfect geographical location to build their nests is vital for hummingbirds. The location must have sufficient protection from predators and must also have sources of nectar and insects for the young ones.
The Timing Of Hummingbird Nesting In Michigan And How It Differs From Other Regions
Hummingbirds are migratory birds, and their nesting season varies according to their geographical location. The nesting season also depends on the time when the flowers bloom.
Here's how the hummingbird nesting season differs in michigan compared to other regions:
In michigan, hummingbirds start nesting in june and continue until early september.
In the southern united states, hummingbirds breed and nest earlier, around april and may.
In the western united states, hummingbirds nest in may and june.
If you want to attract hummingbirds to your backyard in michigan, the ideal time to do so is between june and september.
Understanding the various hummingbird nesting habits and influential factors in michigan will help you create the perfect conditions to enable hummingbirds to nest in your area.
Factors That Affect Hummingbird Nesting Cycles In Michigan
When Do Hummingbirds Nest In Michigan
Hummingbirds are one of the most beloved bird species in michigan. They are tiny and quick, and their aerial acrobatics captivate bird enthusiasts.
But when exactly do hummingbirds nest in michigan, and what factors affect their nesting cycles?
In this blog post, we'll explore these questions in-depth, with a special focus on the impact of temperature, climate change, habitat loss, and human activity.
We'll also offer some tips on how to support a healthy hummingbird population in michigan through pollinator-friendly gardens and habitats.
The Role Of Temperature And Climate Change In Hummingbird Nesting Cycles
Hummingbirds typically arrive in michigan during the springtime, with males arriving first to establish territories. By early summer, females start nesting, and they can raise multiple broods during the nesting season.
However, the timing of hummingbird nesting cycles can vary depending on temperature and climate change.
Here are some key points to consider:
Hummingbirds rely on temperature cues to determine when to migrate and breed, and shifts in temperature patterns can disrupt their nesting cycles.
Climate change can alter the timing of flowering plants and nectar availability, which can affect hummingbirds' food sources and breeding success.
It's essential to monitor hummingbird activity and nesting patterns in michigan closely, to understand the impacts of climate change on these beautiful birds.
The Impact Of Habitat Loss And Human Activity On Hummingbird Nesting Patterns In Michigan
Hummingbirds need proper habitat to thrive in michigan. Unfortunately, habitat loss and human activity can significantly impact their nesting patterns.
Here are some essential points to consider:
Hummingbirds need a variety of habitats to thrive, including open woodlands, meadows, and gardens.
Habitat loss due to deforestation, urbanization, and land development can reduce hummingbird populations and limit their breeding success.
Human activity, including the use of pesticides and herbicides, can also hurt hummingbird populations by reducing their food sources and damaging their habitats.
How Pollinator-Friendly Gardens And Habitats Can Support A Healthy Hummingbird Population In Michigan
Creating pollinator-friendly gardens and habitats is one of the best ways to support a healthy hummingbird population in michigan.
Here are some tips to keep in mind:
Include a variety of native flowering plants in your garden that bloom throughout the year to provide a continuous food source for hummingbirds.
Plant flowers with tubular shapes that are perfect for hummingbirds' long, slender beaks and tongues.
Avoid using pesticides and herbicides in your garden, which can harm hummingbirds and other pollinators.
Consider installing hummingbird feeders in your garden, especially during times when natural nectar sources are scarce.
Understanding when hummingbirds nest in michigan and the factors that affect their nesting cycles is key to supporting these incredible birds.
By creating pollinator-friendly gardens and habitats and monitoring their populations closely, we can help ensure that hummingbirds continue to thrive in michigan and beyond.
Observing Hummingbirds Nesting In Michigan: Tips And Tricks
Tips On Where To Find Hummingbirds Nesting In Michigan And How To Identify Their Nests:
Hummingbirds prefer to nest in wooded areas, so keep an eye out for wooded patches or even small copses of trees.
You can also look for hummingbirds in residential areas where they may have access to gardens or nectar feeders.
Look for their nests in trees or shrubs about 6-10 feet off of the ground.
Hummingbird nests are small, cup-shaped, and made of plant materials and spider silk. They may be difficult to spot, but can be identified by their size (about the size of a ping-pong ball) and the presence of lichen on the outside.
What To Expect When Observing Hummingbirds Nesting In Michigan, Including Their Nesting Behaviors And Breeding Habits:
Hummingbirds typically nest from may through july in michigan.
Female hummingbirds build their nests and lay 1-3 eggs.
The female sits on the eggs for 14-16 days before they hatch.
Both male and female hummingbirds feed the hatchlings in the nest until they fledge, which takes about 18-30 days.
Hummingbirds may be territorial during nesting season, so you may see them chasing away other hummingbirds or even other bird species near their nests.
How To Create A Hummingbird-Friendly Environment In Your Backyard To Attract And Observe Nesting Hummingbirds In Michigan:
Plant nectar-rich flowers and shrubs that are native to michigan, like bee balm, cardinal flower, and trumpet vine.
Hang hummingbird feeders with a sugar-water solution (1 part sugar to 4 parts water) and keep them clean and filled.
Provide perches for the hummingbirds to rest on, such as a small branch or a shepherd's hook.
Avoid using pesticides and herbicides in your yard, as they can be harmful to hummingbirds and their food sources.
Create a water feature, such as a fountain or birdbath, for hummingbirds to drink and bathe in.
FAQ On Hummingbirds Nesting In Michigan
What Is The Hummingbird Nesting Season In Michigan?
The hummingbird nesting season in michigan typically occurs from may to august.
How Long Does It Take For A Hummingbird Egg To Hatch?
It takes approximately 16-18 days for a hummingbird egg to hatch.
What Should I Do If I Find A Baby Hummingbird On The Ground?
If you find a baby hummingbird on the ground, it's best to leave it alone and let its parents care for it.
Where Can I Find Hummingbird Nests In Michigan?
Hummingbird nests can be found in michigan near nectar sources, such as flowers and feeders.
How Many Eggs Does A Hummingbird Usually Lay?
Hummingbirds typically lay 1-3 eggs per nest, with an average of 2 eggs per nest.
Conclusion
Hummingbirds are magical creatures that bring joy and beauty to our surroundings. These lively birds are fascinating to watch, and their nesting habits make them even more intriguing. If you're in michigan and want to observe hummingbirds nesting, make sure to keep an eye out from late may to early july.
These tiny creatures build their nests in secluded spots, often high up in trees or tucked away in bushes. As you watch their nests grow and their young hatch, you'll witness the incredible dedication and hard work of these skilled nest builders.
Hummingbirds are a valuable part of michigan's ecosystem and their presence in our gardens and parks should be celebrated. By maintaining healthy and diverse environments for these unique birds, we can ensure their survival for future generations to enjoy.