Which Does the Bee Hummingbird Use to Make Nests: Webs!
The bee hummingbird uses a combination of plant fibers, spider webs, and lichen to make their nests.
The bee hummingbird, the world's smallest bird, needs to construct lightweight and compact nests to accommodate their tiny size. They gather plant fibers, spider webs, and lichen to create a strong, yet flexible and soft foundation for their nests.
This combination allows them to build nests that are not only comfortable but also secure and well-camouflaged in their natural environment.
Bee hummingbirds use plant fibers for the nest's structure.
Spider webs provide elasticity and strength to the nest.
Lichen serves as camouflage, blending the nest into its surroundings.
The combination of these materials creates a secure and comfortable home for the bee hummingbird's eggs and chicks.
The bee hummingbird has adapted to using readily available materials in its environment to create nests that ensure the safety and comfort of its offspring.
By incorporating plant fibers, spider webs, and lichen into their nest construction, these tiny birds can effectively hide their nests from predators and ensure that their eggs and chicks stay secure within the nest's flexible yet sturdy structure.
5 Materials Used by Bee Hummingbird to Make Nests
| | |
| --- | --- |
| Material | Use in Nest Construction |
| Plant Fibers | Provides structure and support of the nest |
| Spider Silk | Binds materials together and adds flexibility |
| Lichen | Camouflage and decoration |
| Bark Strips | Outer covering and support |
| Leaves | Insulation and lining |
5 Materials Used by Bee Hummingbird to Make Nests
Key Takeaway
Smallest bird species: The bee hummingbird is the smallest bird species in the world, allowing them to create uniquely small and lightweight nests.
Plant materials: Bee hummingbirds use various plant materials, such as bark, moss, and lichen, to construct their nests.
Spider silk: They also use the fine threads of spider silk to bind the nest components together and attach the nest to a tree branch.
Camouflage: The materials that bee hummingbirds use in their nest construction provide camouflage, protecting their eggs and nestlings from potential predators.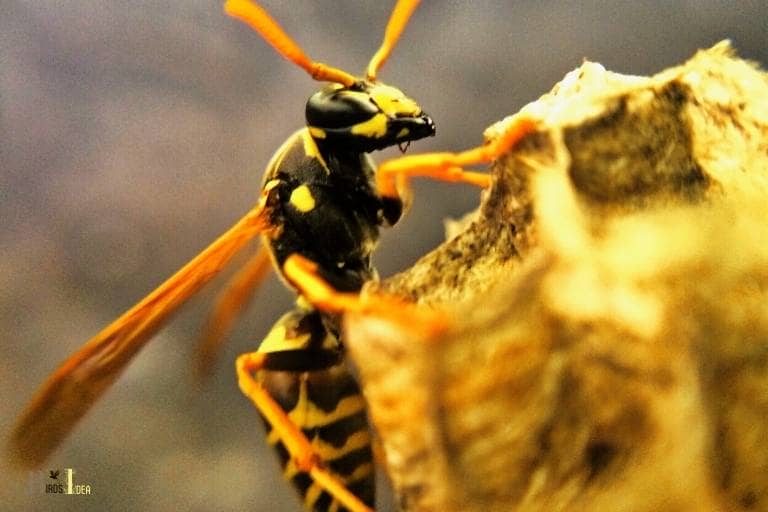 Five Facts About: Bee Hummingbird's Nest Building Behavior
The bee hummingbird is native to Cuba and the Isla de la Juventud. It measures about 5.5 centimeters long and weighs approximately 1.95 grams – making it the smallest bird species in the world (Source: National Geographic).
Bee hummingbirds use various plant materials to make their nests, including tree bark, moss, and lichen. Their nests are small and lightweight, with an average diameter of only 2 to 3 centimeters (Source: All About Birds).
The fine threads of spider silk are utilized by bee hummingbirds to bind the plant materials together, ensuring the nest structure is firm and stable. Spider silk is also used to attach the nest to the supporting branch (Source: Hummingbird-guide.com).
Colorful lichen is strategically placed on the outer surface of the nest to act as camouflage, making it difficult for predators to spot the nests in their natural environment (Source: All About Birds).
A female bee hummingbird will lay one to two eggs in the nest, which are only about the size of a coffee bean. The eggs will hatch in about 21 days, and the mother will continue to care for the nestlings for another approximately 20-24 days before they fledge (Source: Hummingbird-guide.com).
An Introduction To The Smallest Bird In The World
The bee hummingbird, mellisuga helenae, is the smallest bird in the world. These tiny birds, native to cuba, are a marvel to behold. They are known to weigh less than a penny and measure up to 2. 25 inches in length.
If you want to know more about these extraordinary little creatures, let's delve in and explore some key points.
Definition Of Bee Hummingbird And Its Characteristics
Bee hummingbirds are a fascinating species, much smaller than their hummingbird cousins.
Here are some essential characteristics:
Bee hummingbirds are also known as zunzuncito in their native cuba.
They have iridescent green feathers on their back, which look bright and sparkle when the sun shines on them.
Male bee hummingbirds have a distinct iridescent red-orange patch on their throat, called a gorget.
They have a unique heartbeat that can reach up to 1,200 beats per minute.
Bee hummingbirds have one of the highest metabolism rates of any animal in the world, which they need to maintain their tiny body temperatures.
Habitat And Distribution Of Bee Hummingbirds
The bee hummingbird's native habitat is cuba, where you will find them in the lush tropical forests of the island.
Here are some more intriguing details about their habitat and distribution:
They are found mainly in the eastern and central parts of cuba.
Bee hummingbirds inhabit subtropical or tropical moist montane forests.
The cuban government has designated the bird as a national natural monument.
These birds are endangered due to habitat destruction and being hunted for their feathers.
Bee hummingbirds mainly feed on nectar, but they also consume small insects and spiders.
The bee hummingbird is a tiny bird with magnificent and unique characteristics. It inhabits lush forests in cuba and faces many threats that put it at risk of extinction.
As the world's smallest bird, it is truly a remarkable species.
Understanding The Nesting Behavior Of The Bee Hummingbird
Overview Of The Nesting Process Of Bee Hummingbirds
The bee hummingbird, also known as the zunzuncito, is the smallest bird on the planet. These tiny birds are found mainly in cuba and utilize a diverse range of nesting habitats.
Understanding their nesting behavior can help us appreciate and protect this amazing avian.
Here are some key points to understand the nesting process of bee hummingbirds:
Bee hummingbirds mate between march and june and may breed up to three times per year.
Female birds take the sole responsibility of building nests that typically takes around 6-7 days.
The nest is constructed using spider silk and plant material, and sometimes lichen and moss, depending on the availability of materials.
The female bee hummingbird then lays one to three eggs and spends up to 18 days incubating them before hatching.
Baby bees are born featherless and require constant care from their mother for several weeks before they can fly.
What Materials Do Bee Hummingbirds Use To Make Nests?
Creating a nest is an arduous task for bee hummingbirds, and they utilize a variety of materials to craft their cozy abode.
Here are some materials these miniature birds use to make nests:
Spider silk is used as the primary nesting material. The natural adhesive properties of the silk help in binding the nest together.
They also use lichens and mosses to cover the exterior of the nest, which helps the nest blend in with its surroundings.
Nests are often lined with soft materials like plant down, feathers, and hair to provide a cozy home for the baby hummingbirds.
Bee hummingbirds use various plants like cotton and thistle, and spider webs to create a sturdy structure for the nest.
These birds may also incorporate bits of cloth, string, and other human-made materials if they are available in their habitat.
Bee hummingbirds may be tiny, but their nesting behavior is fascinating. These little creatures adapt to changing environments, using all sorts of natural and human-made materials to create their homes.
By understanding their behavior and habitats, we can protect these unique birds and the ecosystems they inhabit.
The Role Of Spiderwebs In Bee Hummingbird Nest-Making
How Do Bee Hummingbirds Use Spiderwebs In Nest Construction?
Bee hummingbirds, being tiny creatures, build their nests using spiderwebs, moss, and other materials. But the question remains, how do they utilize spiderwebs in their nest-making process?
Let's explore.
Bee hummingbirds utilize spiderwebs to weave their nests, and the webs act as an adhesive agent to keep nests together.
The small size of the spiderwebs allows for more flexibility and maneuverability in nest creation.
Spiderwebs are especially helpful in weaving the nest's outer layer to strengthen it and keep it protected from predators.
The Benefits And Disadvantages Of Using Spiderwebs In Nest-Making
Using spiderwebs in nest-making is a common technique for many birds, including bee hummingbirds. However, there are some pros and cons to using spiderwebs in nest construction.
Benefits:
Spiderwebs are abundantly available to bee hummingbirds, saving them time and energy when building their nests.
The versatility of spiderwebs allows for easy nest creation since they can be weaved into various shapes and sizes.
Spiderwebs also act as protectors from harsh weather conditions, keeping the nest sturdy and safe.
Disadvantages:
Spiderweb-based nests can be difficult to maintain since spiderwebs aren't the strongest materials, making them more susceptible to damage.
Using spiderwebs in a nest's design also carries the risk of it getting entangled and caught in the web, which can harm the bird.
Because of the high amount of spiderwebs needed, excessive use of spiderwebs may inadvertently lead to a reduction in spider populations.
Spiderwebs play an essential role in bee hummingbird nest-making. While there are some drawbacks to using spiderwebs, the benefits outweigh them.
The hummingbird's innate knowledge of how to construct sturdy spiderweb-based nests is a remarkable adaptation that allows them to thrive in their environment.
The Importance Of Plant Fibers In Bee Hummingbird Nests
What Plant Fibers Do Bee Hummingbirds Use In Nest-Making?
Bee hummingbirds are known for their unique nest-making capabilities. Surprisingly, the smallest birds in the world use a variety of materials to make their nests. The primary material used to create a bee hummingbird's nest is plant fibers.
Some of the commonly used plant fibers for nest-making include:
Ferns
Mosses
Lichens
Spiderwebs
Cotton
Coconut fibers
With these plant fibers, bee hummingbirds can develop a strong and durable nest that is comfortable and safe for their chicks.
Why Are Plant Fibers An Effective Material For Bee Hummingbird Nests?
Plant fibers possess several unique properties that make them an ideal material for bee hummingbird nests.
Let's explore some of these benefits:
Durability: Plant fibers are strong and sturdy, providing a robust base to the nest and making it resistant to damage from predators, weather, or other environmental factors.
Insulation: Plant fibers have excellent insulating qualities, which helps to maintain a stable temperature within the nest, keeping the chicks warm even during chilly nights.
Comfort: The softness and flexibility of plant fibers make the nest comfortable for the chicks and help to promote better sleep, which is crucial for their growth and development.
Availability: Plant fibers are widely available in the bee hummingbird's environment, making it easy for them to collect materials for their nests without spending too much energy or time.
Therefore, the use of plant fibers in bee hummingbird nests provides several benefits, helping them to create a safe and comfortable environment for their chicks.
Other Material Used In Bee Hummingbird Nest-Making
Bee hummingbirds are tiny birds that are well known for their exceptional nest building abilities. While they primarily use spider silk to create their nests, they also incorporate a variety of other materials in their nest-making process.
Let's take a closer look at some of these other materials used in bee hummingbird nest-making.
An Overview Of Other Materials Bee Hummingbirds Use In Building Their Nests
Feathers: Feathers can provide insulation and padding for the nest.
Moss: Moss can help add structure and stability to the nest.
Lichen: Lichen can be used to camouflage the nest and make it blend in with its surroundings.
Bark: Bee hummingbirds may use tree bark to construct the outer layer of their nest.
A Discussion On The Variation In Nest-Making Materials Between Different Bee Hummingbird Species
Different species of bee hummingbirds may incorporate different materials based on their environment and availability of resources.
For example:
The male bee hummingbird in cuba uses spider silk and plant down to create a small, compact nest, while the female builds a larger nest using plant fibers, bark, and other materials.
The bee hummingbird in jamaica may incorporate animal hair, such as horsehair, in its nest-making process.
The bee hummingbird in the dominican republic may use snake skin to line its nest, adding an extra layer of protection for its young.
The bee hummingbird is a masterful nest builder, utilizing a variety of materials, from spider silk to feathers and bark, to create intricate and stable homes for their offspring.
It's fascinating to see the variation in nest materials used by different species, highlighting the unique adaptations and resourcefulness of these tiny birds.
FAQ On Which Does The Bee Hummingbird Use To Make Nests
What Is The Bee Hummingbird'S Nest Made Of?
The bee hummingbird's nest is made of spider webs and soft plant fibers.
How Long Does It Take For Bee Hummingbird Nests To Be Built?
It takes female bee hummingbirds two weeks to build their nests.
Where Do Bee Hummingbirds Build Their Nests?
Bee hummingbirds build their nests in small trees and shrubs, usually near a source of water.
How Many Times A Year Do Bee Hummingbirds Breed?
Bee hummingbirds breed twice a year, in the spring and fall.
Are Bee Hummingbirds Monogamous?
Yes, bee hummingbirds are monogamous and mate for life.
Conclusion
After researching on which materials the bee hummingbird use to make nests, the answer is quite simple. These tiny birds use a combination of materials to create their intricate, cup-shaped nests.
The primary material used is spider silk, which they gather by flying through spider webs and extracting the silk strands.
They then reinforce the silk with soft plant fibers to make the nest more durable and comfortable. Their nests are incredibly intricate, and the process of building them can take anywhere from 5 to 10 days.
Despite their small size, the bee hummingbirds' nests are essential to protect their fragile eggs and raise their offspring.
As we continue to learn about these fascinating creatures and their unique behaviors, it's crucial to recognize the importance of protecting their habitats.
By preserving their natural habitats and ensuring that they have access to the resources they need, we can help protect these tiny birds and their vital role in maintaining biodiversity.