Why Is My Hummingbird Water Cloudy: Bacteria!
Your hummingbird water can become cloudy due to the growth of bacteria, yeast, or mold in the feeder.
This could be due to the sugar water not being changed regularly, poor hygiene practices, or a feeder located in direct sunlight, which accelerates the process of fermentation and promotes microbial growth.
Here are four key causes of this problem:
Not changing the water regularly: Hummingbird feeders should be cleaned and the water changed at least every four days to help prevent bacterial overgrowth.
Using dirty feeders: The feeders themselves should be regularly washed in hot, soapy water and rinsed thoroughly.
Leaving hummingbird food in the water for too long: Hummingbird food should be replaced with fresh nectar every three to five days.
Using tap water: Tap water often contains chlorine and other chemicals, which can cause the water to become cloudy in a matter of hours. It's best to use filtered water in wooding feeders.
Cloudy water in a hummingbird feeder can cause a range of health issues for the birds, including dehydration and respiratory infections.
To keep hummingbirds safe and healthy, it's important to regularly change the water in the feeder, clean and rinse the feeder regularly, and use filtered water.
6 Reasons of Cloudy Hummingbird Water
| | |
| --- | --- |
| Reasons for Cloudy Hummingbird Water | Explanation |
| Bacterial growth | The sugar water in hummingbird feeders can become a breeding ground for bacteria and mold, which may cause the water to appear cloudy. |
| Yeast fermentation | Sugar water can also ferment, and this process can cause cloudiness. This is particularly true if the feeder is left in the sun. |
| Contaminated Sugar | If the sugar used to make the hummingbird water is contaminated, this can cause the water to become cloudy. |
| Impurities in Water | If the water used to make the hummingbird solution has impurities or heavy minerals, it can cause the solution to appear cloudy. |
| Poor Quality Feeder | Certain feeders may leach materials into the sugar water, causing it to become cloudy. |
| Overused Solution | If the hummingbird water has been in the feeder for too long, it can become cloudy. Regularly changing the solution can prevent this. |
6 Reasons of Cloudy Hummingbird Water
Key Takeaway
Hummingbird water is typically sugary, which can make it prone to bacteria and mold growth if not changed regularly.
Heat can accelerate the process of fermentation in hummingbird water, causing it to turn cloudy rapidly.
A cloudy appearance in hummingbird water can be an indication of contamination that could harm the hummingbird's health.
Cleaning your hummingbird feeders regularly and changing the water is the best way to prevent the water from becoming cloudy.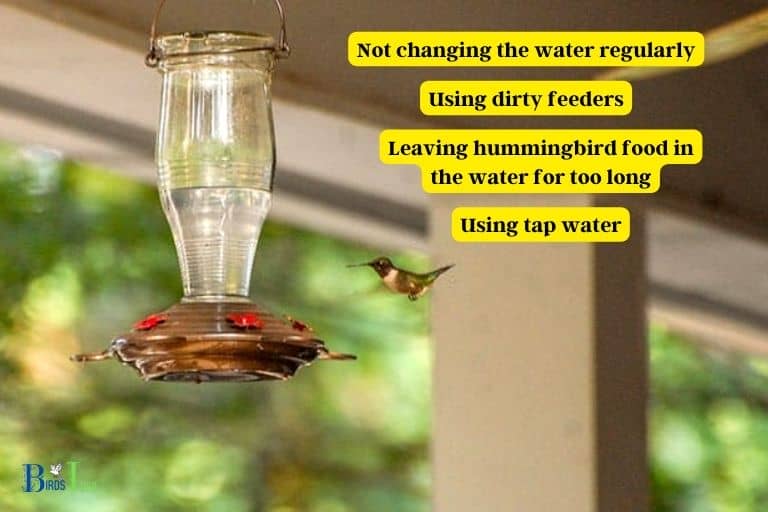 Five Facts About: Cloudy Hummingbird Water
Hummingbirds consume half of their weight in sugar every day, which is why hummingbird water is typically sweet. (source: Hummingbird Guide)
When the hummingbird water becomes cloudy, it's a sign that the water is no longer safe for the birds to drink. It must be replaced immediately. (source: Audubon Society)
Fermentation can happen quickly in higher temperatures, sometimes within the day. If you see your water turning cloudy, it's likely due to fermentation. (source: Bird Watcher's Digest)
Yeast and bacteria thrive in sugar water, causing the water to turn cloudy when they multiply. These pose serious health risks for hummingbirds. (source: All About Birds)
Regularly cleaning the hummingbird feeder and changing the water can prevent cloudiness and can ensure the safety of the birds. Using a solution of one part bleach to nine parts water is recommended. (source: Bird Watcher's Digest)
DID YOU KNOW
It's estimated that over 10 million hummingbirds are present in the US alone. Helping them stay healthy is an essential part of conserving the species.
Understanding the Causes of Cloudy Water in Hummingbird Feeders
Cloudy water in hummingbird feeders is a common issue that can be caused by multiple factors.
Here are some of the primary reasons why a hummingbird feeder might contain cloudy water: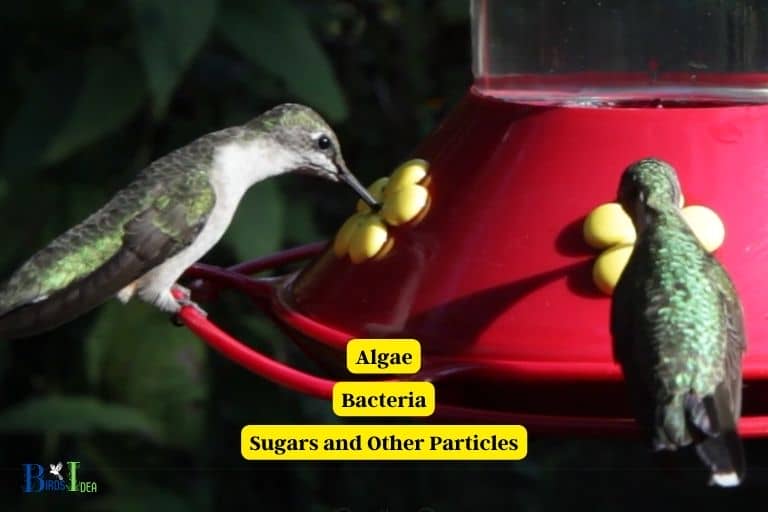 Bacteria: Bacteria can enter the feeder through contaminated water or by coming in contact with organisms on the feeder itself. Bacterial growth will lead to the water becoming cloudy.
Algae: Algae may enter the feeder through dirt or organic matter, or it may be produced by bacteria. Algae can also cause the water in the feeder to become cloudy.
Sugars and Other Particles: If sugar is added to the feeder, it can lead to the water becoming cloudy. Other particles, such as pollens, can also cause the water to become cloudy.
These are some of the primary causes of cloudy water in hummingbird feeders. It is important to keep the feeder clean and to use fresh, clean water to prevent cloudy water from occurring.
If the water does become cloudy, it should be changed and the feeder should be thoroughly cleaned before refilling it with fresh water.
Hummingbird Water Cloudy
Cause 1: Not Changing the Water Regularly
The number one cause of premature fish death is not changing the water regularly. Fish excrete a lot of waste, which accumulates in the aquarium and can cause a number of issues.
The most common problem is an elevated level of ammonia in the water, which can cause stress and even death in fish.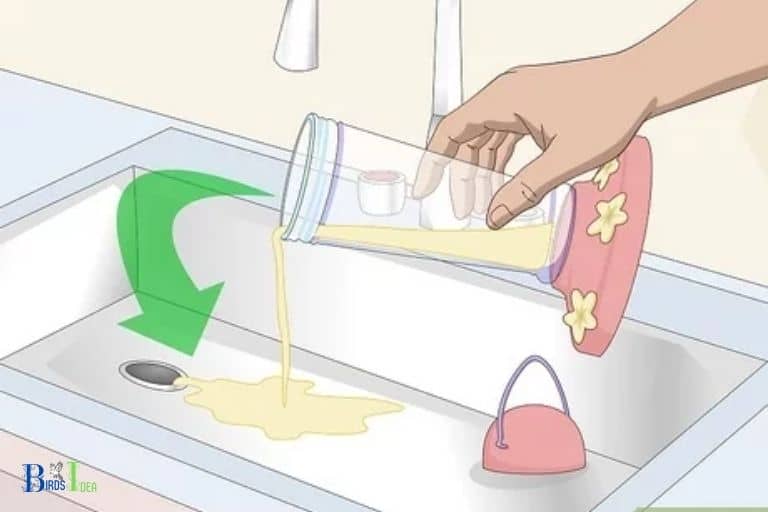 To prevent this, aquarium owners should be sure to regularly change out about 10-25% of the water in their tank. This will help keep the water clean and free from ammonia and other contaminants.
Additionally, an aquarium filter should be used to help reduce the amount of waste and contaminants in the tank.
Some other tips to keep the water clean include:
Regularly checking the pH level of the water
Adding a dechlorinator if needed
Clean out any debris or waste that has accumulated in the tank
Avoid overfeeding the fish
Add healthy aquarium plants to the tank
Cause 2: Using Dirty Feeders
Using dirty feeders is another cause of electrical fires. Feeders are the power lines that allow current to flow from the source of electricity and deliver it to the building's wiring system.
When the feeders are not clean, dirt and debris can interrupt the flow of electricity. This could create an overload and spark a fire.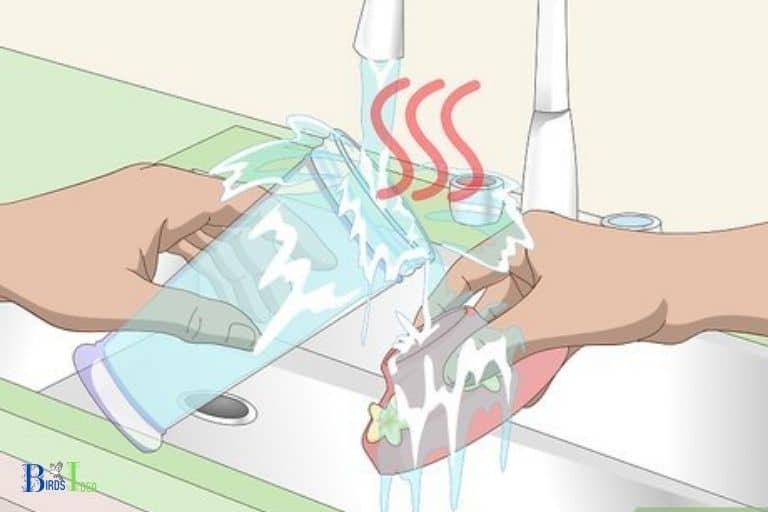 Some of the causes of dirty feeders are:
Rat infestations
Debris build-up
Poor wiring
Weather damage
It is important to regularly inspect, clean, and maintain the feeders in order to reduce the risk of an electrical fire.
If the feeders are not maintained, they can become overloaded and create an unsafe environment.
It is also important to make sure that the feeders are installed correctly and that the wiring is up to code. All of these steps will help reduce the chances of an electrical fire.
Cause 3: Leaving Hummingbird Food in Water Too Long
Hummingbirds require fresh nectar to survive and leaving nectar in the feeder for too long can be detrimental to their health.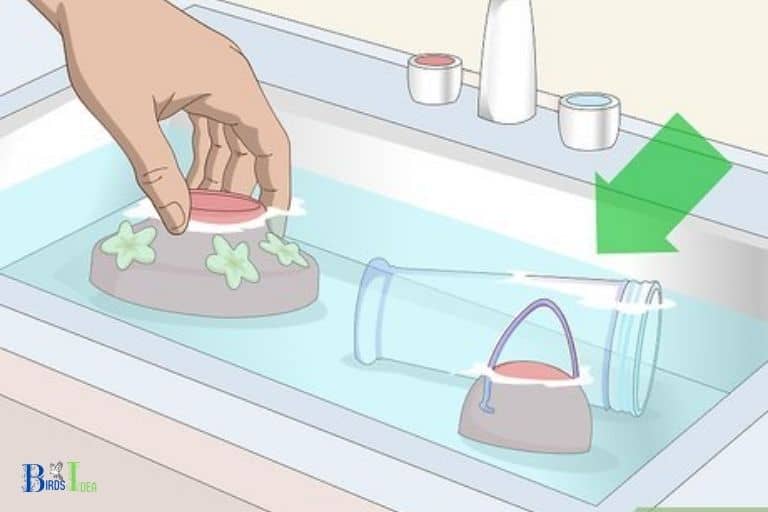 Below are three reasons why leaving hummingbird food in water too long can cause harm:
Bacterial Growth: When hummingbird food is left in the feeder for extended periods of time, bacteria can start to grow and become a health hazard for hummingbirds.
Nutritional Imbalance: If the nectar is left in the feeder for too long, it will start to ferment, creating an imbalance in the sugar and water ratio. Hummingbirds need the proper balance for their nutrition.
Mold Growth: Mold can also start to grow on the feeder if the nectar is left in it for too long, posing a significant health hazard to the birds.
Therefore, hummingbird food should be changed regularly and not be allowed to stay in the feeder for too long.
Cause 4: Using Tap Water
Using tap water to clean contact lenses can cause several issues.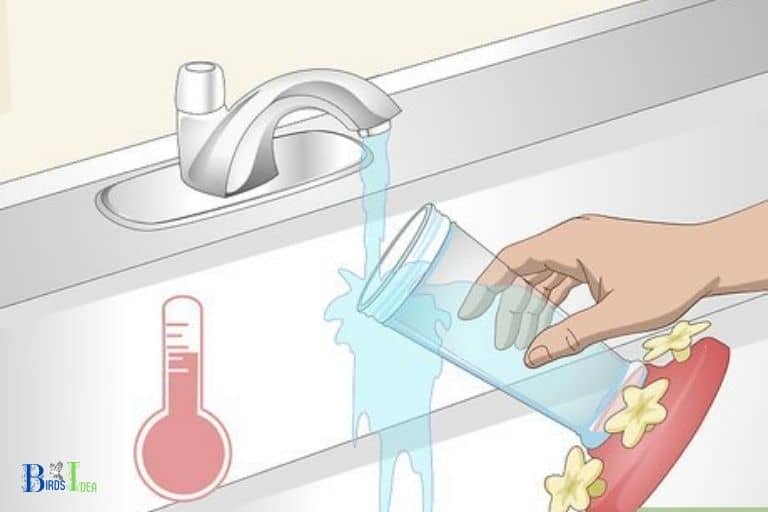 Here are four causes:
Contamination: Tap water contains a variety of contaminants, including chlorine, bacteria, and minerals, that can all irritate the delicate eye surface.
Protein Deposits: Tap water also contains proteins that can bind to contact lenses, making them uncomfortable to wear.
pH Imbalance: Tap water is much more alkaline than the saline solution designed for contact lenses, which can cause damage to the eye surface.
Depletion of Fluoride: Tap water contains fluoride, which is essential for healthy contact lens wear.
When tap water is used to clean contact lenses, the lenses can absorb the fluoride, leaving the lenses' surface unprotected.
Impact of Cloudy Water on Hummingbird Health
Cloudy water is a serious health hazard for hummingbirds. It can lead to a variety of problems, including dehydration, malnutrition, and even death.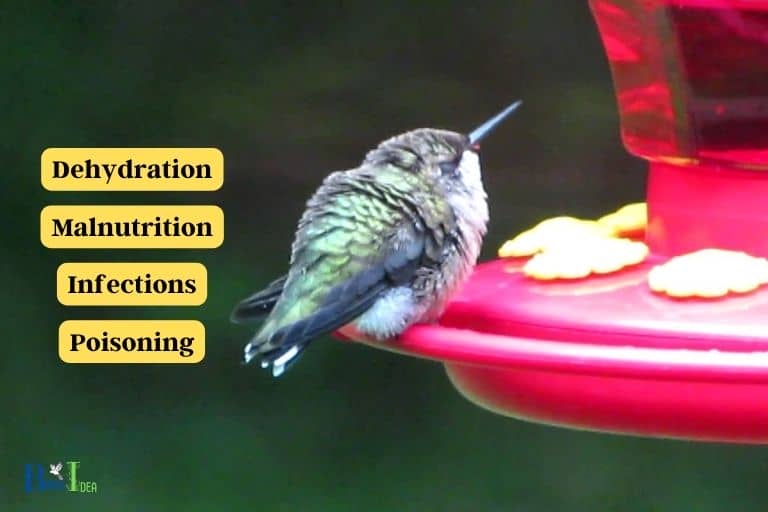 Here are some of the impacts of cloudy water on hummingbird health:
Dehydration: Cloudy water can increase the rate of dehydration by depriving hummingbirds of vital minerals and electrolytes.
Malnutrition: Hummingbirds rely on the nutrients in their water for nourishment. Cloudy water can reduce the amount of nutrients available, leading to malnutrition.
Infections: Cloudy water can harbor bacteria and parasites that can cause infections and other health problems in hummingbirds.
Poisoning: Pollutants in cloudy water can be toxic to hummingbirds, leading to poisoning and other health problems.
The best way to protect hummingbirds from the health risks of cloudy water is to make sure they only drink clean, fresh water.
This can be done by changing the hummingbird feeder water regularly and providing a clean source of drinking water.
How to Prevent Cloudy Water in Hummingbird Feeders
Having crystal clear nectar solution in your hummingbird feeders is essential in keeping the birds healthy and safe.
Cloudy water, however, can be an issue that results in a less than ideal environment for the birds.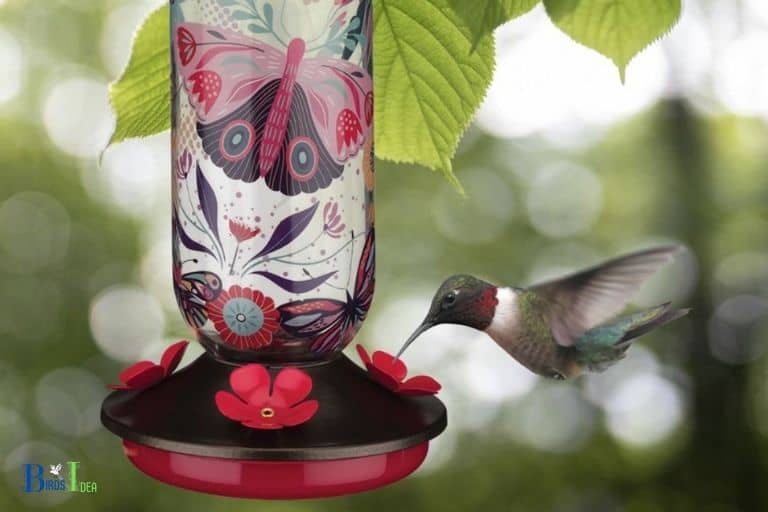 To prevent cloudy water in your hummingbird feeders, follow these steps:
Change the nectar solution every few days. Bacteria and fungus can quickly build up in the feeder, leading to cloudy water.
Clean the feeder out regularly. If you notice any build-up, use a water and vinegar solution to scrub the feeder clean.
Keep the feeder in a shaded area. Direct sunlight can cause the nectar to ferment and become cloudy.
Ensure that the sugar-water solution has the right ratio. Too much sugar can cause a cloudy solution.
By following these steps, you can ensure that your hummingbird feeders are providing crystal clear, healthy water to the birds. Doing this regularly will ensure that your birds stay healthy and safe while they visit your feeder.
What causes humminbird water to become cloudy?
Cloudy water in a hummingbird feeder is generally caused by bacteria or mold growth.
These organisms can become established in the sugar solution if the feeder isn't cleaned and refilled regularly.
Is cloudy water from a hummingbird feeder harmful?
Cloudy water from a hummingbird feeder is not usually harmful for the birds. However, the mold and bacteria can grow quickly, and if birds ingest large amounts of it, it may lead to digestive upset or infection.
How can I prevent my hummingbird feeder water from becoming cloudy?
To prevent cloudy water in a hummingbird feeder, clean it at least once a week and refill it with fresh sugar solution.
Make sure to clean the feeder completely, including all small crevices and cracks, to prevent bacteria and mold build up.
Are there any special cleaning solutions I should use for my hummingbird feeder?
While it is not necessary to use a special cleaner in your hummingbird feeder, you can use a mild solution of vinegar and water.
Fill the feeder with a mixture of 1 part vinegar to 4 parts water and let it sit for 30 minutes, then rinse it thoroughly with hot water.
How often should I change my hummingbird feeder water?
Hummingbird feeders should have their water changed at least once a week. If your feeder is in an area with high temperatures, or is situated in direct sunlight, you may need to refill it more often.
Conclusion
Cloudy hummingbird water can cause a range of health issues in the birds, and should be avoided by regularly changing the water, cleaning the feeder, and using filtered water.
Keeping the hummingbird food fresh is also vital for the birds' well-being. By following these tips, our feathered friends can stay healthy and happy.